Calorie Counter - MyFitnessPal
Calorie Counter – Keep Track of Your Calorie Consumption
Do you want to lose weight? Are you interested in knowing how many calories you are consuming every day? If yes, then this calorie counter is an excellent choice for you. Calorie Counter – MyFitnessPal is a useful app which allows you to measure your daily calorie intake and thus helps you reach your fitness goals quickly. It encourages you to log everything you put in your body and then calculates the number of calories you have consumed in a day. It has a large database of foods with predetermined calorific values of each food item. You just have to select the food you ate and its calorie count is added automatically. It also offers a variety of other methods to log in foods or recipes that aren't available in the database.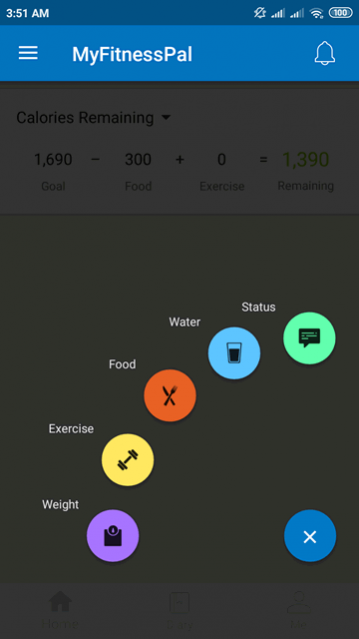 Calorie Counter – MyFitnessPal has a user-friendly interface which meshes with its simple design and layout. The combination of these features makes this calorie counter very easy to use for everyone. You won't find any difficulty in navigating the features offered by the app and can easily use to for keeping track of your calorie intake. However, before you get to do that, you will have to answer a few basic questions. These questions will be regarding your fitness goals and the current weight you have. You will also be asked to select the target weight you want to reach. This is done to set a fitness goal for you. After you sign-in, the app is going to actively help you in reaching the fitness goal you have set for yourself.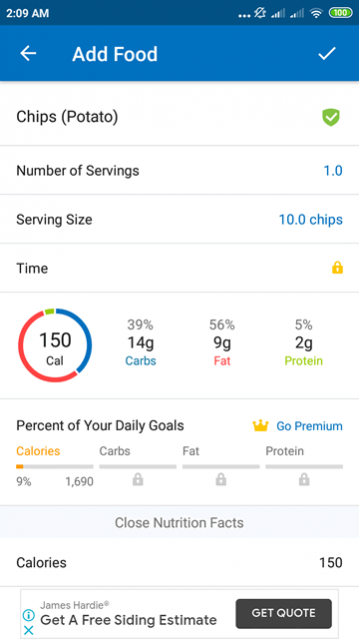 This calorie counter requires you to log all your meals. This includes breakfast, lunch, and dinner. If you have consumed any snacks in between the meals or at night then you need to log them as well. When making a food entry, you will have to type its name in the search box provided to you. This app is going to try and find the food item or recipe you have entered in its extensive food database. If a match is found, you just need to tap on it and the entry will be added to your food journal. Make sure that you choose the meal size along with the entry so that the calorie count can be calculated accurately. Entries for food items can be made using barcode scans too.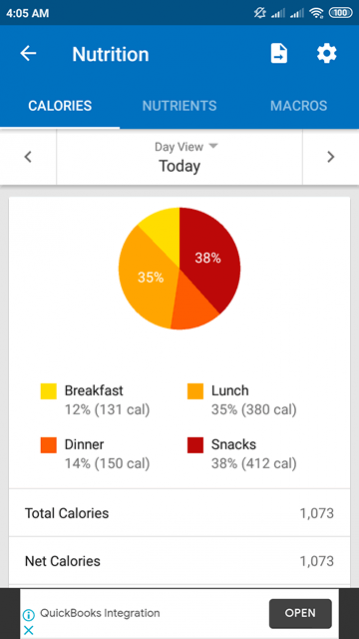 Calorie Counter – MyFitnessPal lets you enter restaurant meals directly from their menu too. Just make sure that the restaurant you went to is available in the app's database. If it is then this process will take a few seconds. However, if it's not then you will have to manually enter the recipe of the meal and add it to favorites. The app is going to calculate the calorie count for the meal itself and add it to your food diary. This calorie counter doesn't keep track of your calories alone. It can monitor the intake of other valuable nutrients too. Moreover, it allows you to log your daily water intake as well. All this information collection is done to provide you tips on how you can change your diet to achieve your fitness goal quickly.
Features:
User-friendly interface
Simple design and layout
Calculate calorie intake for each meal
A huge database of meals and cuisines
Search option for finding your meals
Scan the barcode to log your food item
Log items directly from the restaurant's menu
Save your own recipes and add them to favorites
Customization options for entering correct meal size
Keep track of your water intake
Tips for reaching your fitness goals
Conclusion:
Calorie Counter – MyFitnessPal is an app which is marketed towards people who want to keep track of their food intake. It provides them the opportunity to calculate the number of calories they are consuming each day and how much they need to consume to reach their fitness goal. It is an excellent calorie counter and you should give it a try.
---
Add a review
Tell us your experience with
Calorie Counter - MyFitnessPal
RELATED PROGRAMS
Our Recommendations
---
---
---
---